Vacationing at the pristine beaches may sound great; however, there's something magical about the far-flung mountains, their unexplored corners, and the untrodden trails. Moreover, imagine waking up to the birds' songs and the golden sun rays beaming through your windows! Wouldn't it be great to stand on top of a mountain and feel the unsurpassable joy and peace? If you want to get away from the soul-tiring monotony, we'd love to help you out with the handpicked remote and serene destinations. One such option is Ahal Dara, a pocket-friendly option to vacation amidst the unexplored hills.

Location & Overview 
Ahal Dara is located in Shelpu Hills in Sittong, which is a base region of Kurseong under the district of Darjeeling. Additionally, Ahal Dara is everything that a nature lover would want to call home. Furthermore, for travel fanatics, it is a rejuvenating spot. Moreover, it's a blissful escapade for nature lovers. For adventure lovers, it offers a joyful hiking trail. Furthermore, for the locals, it's an ideal picnic spot. The luxuriant valley, lush green tea gardens, Cinchona plantation, and uncluttered forests of Ahal Dara not only offer you a visual treat but also provide a much-needed retreat and peace to your soul. Moreover, the sight of mountain rivers Ryang and Teesta crisscrossing the vales adds more to its charm.
The local name "Ahal Dara" means "Hill Ridge on a puddle of water" in English. Additionally, Ahal Dara, though not known to many, stands as one of the must-visit offbeat destinations in Darjeeling. Moreover, due to its nature-bound appeal, Ahal Dara offers an ideal escapade to nature lovers and adventure seekers. Furthermore, this natural hilltop provides a 360-degree view of the sunrise, sunset, Teesta River, Kanchenjunga Peak, and the adjoining Himalayan peaks.
Things to do in Ahal Dara
Enjoy a Mesmerizing Sunrise and Sunset – Ahal Dara offers a breathtaking view of the sunrise over the Kanchenjunga Peaks. Additionally, on a clear day, you can get a clear view of the valleys and Hilltowns like Kalimpong, Gangtok, Bagora, and Algarah. Moreover, you can enjoy an unobstructed view of the famous Tinchuley Hills from this viewpoint.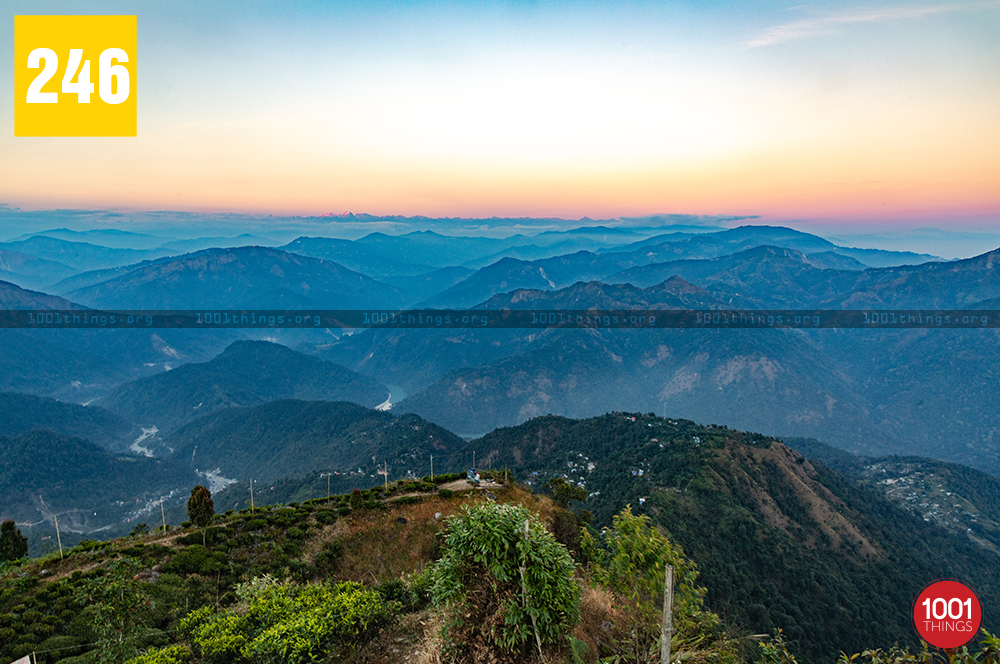 Visit the Orange Orchards in Sittong – The orange orchards in Sittong are surreal, especially during the fruit-bearing season. During this time, the orange trees bend over, almost touching the ground, with heavily laden and fully-ripened oranges. Moreover, Sittong, located just 1 km away, is easily accessible and offers a great opportunity to rejuvenate. Furthermore, don't miss the chance to explore the orange orchards while you're there. If you want to watch the fruit-laden orange orchards, then plan your visit in October – November.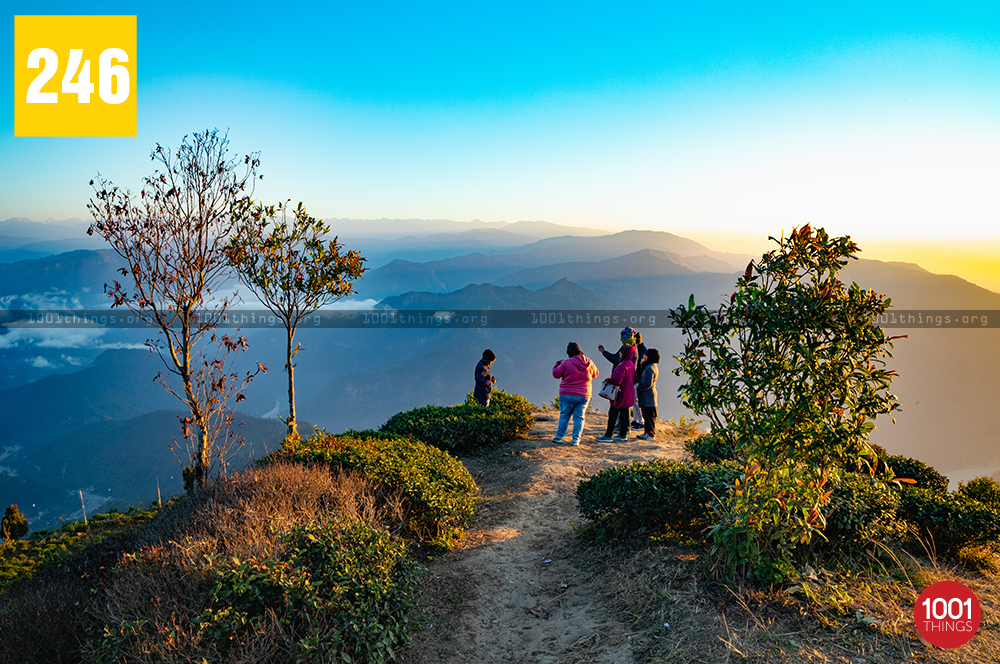 Get a closer look at the rare bird species in Latpanchar- If you are an avid bird watcher and love wildlife photography, Ahal Dara offers you a great opportunity to fulfill your yearning. As Latpanchar is located in proximity, you can spend a day or two tracing the rarest kind of feathered species. Common species found in the region are Red-headed Trogan, Rufous Hornbill, Sultan Tit, Orient Hornbill, Long-tailed Hornbill, Darjeeling Woodpecker, Common green Magpie, Chestnut-headed Tesia, Black-throated Sunbird, Oriental Cuckoo.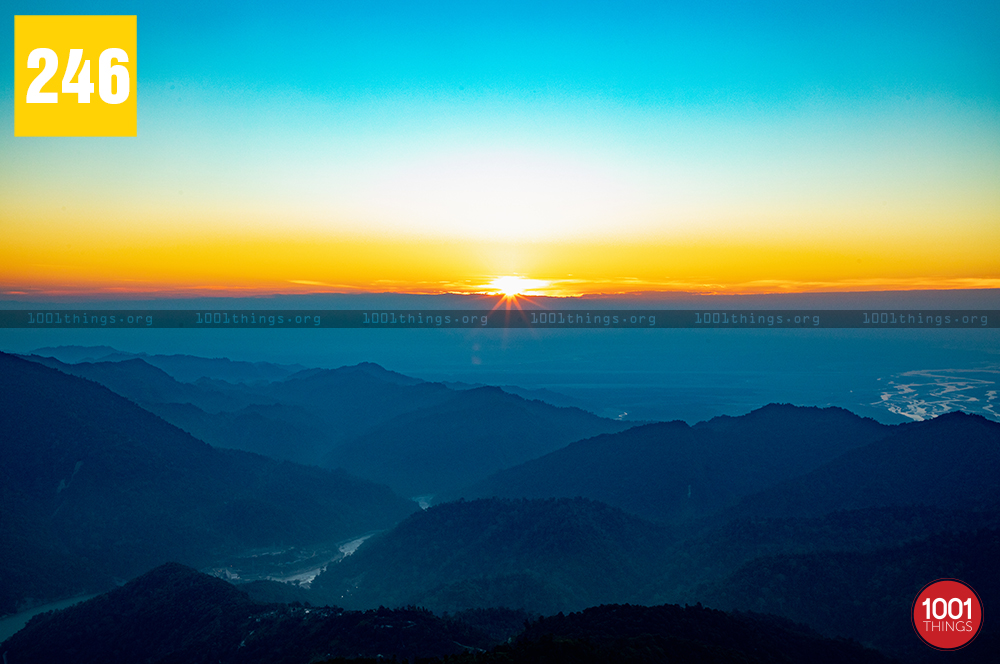 Delve a bit deeper into nature with Bengal Safari – Bengal Safari is located within the forested area of Mahananda Wildlife Sanctuary. Detach yourself from the city rush and enjoy the blissful nature amidst the greens. You can catch a glimpse of tigers, leopards, Wild Cats, Deer, Alligators, and a wide variety of birds here. 
Nearby Attractions in Ahal Dara
Shelpu Hill – From the untrodden landscapes to the bewitching sight of the valleys and lush green tea gardens, the fresh mountain air, and the serene aura, Shelpu hills offer it all at once. The dense Cinchona plantation and the dense green woods cater to the call of the wanderlusts, nature lovers, and ardent photographers. 
Sittong – The base region to the land of white orchids, Sittong is the dream come true for anyone seeking to break free from the urban monotony. This tiny mountainous village offers an ideal getaway throughout the year. From the cozy homestays to the delightful orange orchards, the docile people, and the natural surroundings, you shouldn't skip Sittong from your travel bucket list. 
Namthing Pokhari – The abode or sole breeding site for the endangered species Himalayan Salamander, Namthing Pokhri is located at  Selphu Hills. It remains dry during the winters and turns to a thriving aquatic ecosystem during the monsoon season. During the dry season, the bed of the lake remains blanketed under the grass. Generally, about 4-5 species of grasses thrive in the bed which provides protection and shade to salamanders that remain in a state of hibernation during dry seasons.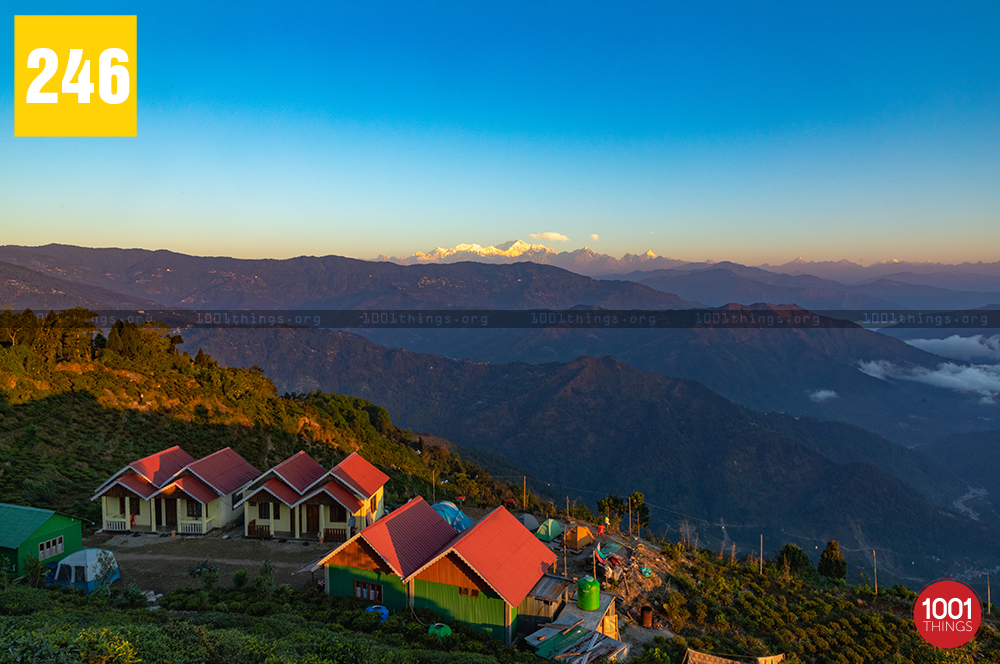 Best time to visit Ahal Dara 
Summertime in Ahal Dara offers a chilling getaway from the blistering summer of plains and the metropolises. Although heavy rainfall during the monsoon season can cause chaos in many areas, Ahal Dara's location at a lower elevation compared to other high-altitude regions makes it a viable option for travel during this season.
Here, each season creates it's own magic. However, if you want to visit the orange orchards and get a clear view of the sunrise, sunsets, mountains, and dales, October – November would be the ideal time. If you want to witness the snow-clad peaks and the clear starlit nights, plan your trip from November to February. During spring, you can see delightful colors of bloom and relish pleasant weather.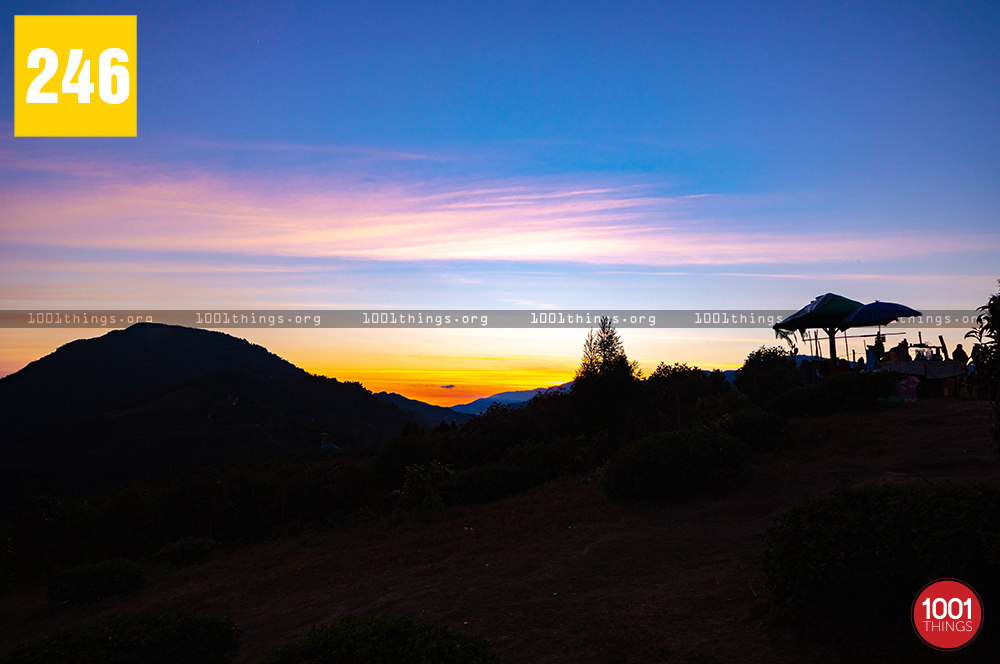 How to go to Ahal Dara
Getting there by Road – Ahal Dara is well connected with the road networks. Also, roadways are the only option to get there. If you are starting your journey from Siliguri, you need to drive about 4 – 5 hours through NH31. However, it will take less time, or about 2-3 hours if you are traveling there from the adjoining hilly regions like Kalimpong, Darjeeling, Kurseong, or Gangtok. You can either hire a guide, or Google maps can be of great help. 
Getting there by Air – The nearest airport to Ahal Dara is Bagdogra International Airport (IXB). Once you get there, you need to hire a taxi to get to Ahal Dara. 
Getting there by Train – The nearest railway station is New Jalpaiguri Railway Station (NJP). From there, you need to hire a taxi or drive to your destination.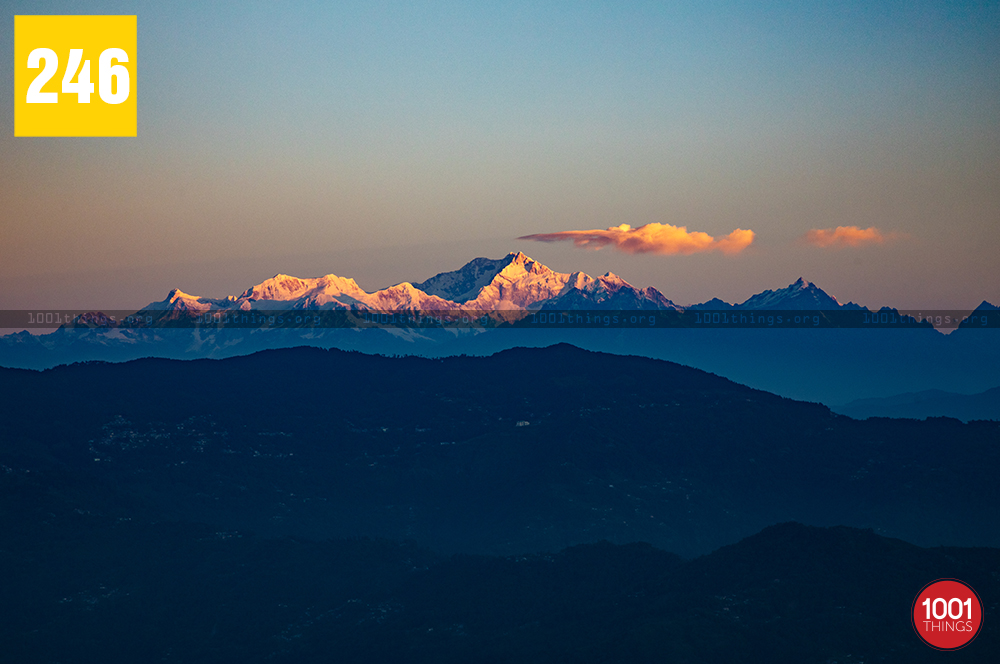 Note – A trip to Ahal Dara can be combined with your trip to Darjeeling Hills or others. Are you planning a visit to Ahal Dara and the surrounding areas? If so, be sure to add some nature-bound activities to your itinerary. There are plenty of options to choose from, including visiting the orange orchards of Sittong, watching the sunrise and sunset from Ahal Dara itself, going on birdwatching and nature hikes, and more. And if you're intrigued by the diverse culture of the region, take some time to interact with the locals and learn about their community.