Do Drul Chorten is the most remarkable structure and is the largest stupa in Sikkim, built by venerable Trulshik Rinpoche head of the Nyingma order of Tibetan Buddhism in the year 1945. It was built honouring the desire revealed by Dud-Zom Rinpoche in 1944. It is said that this Chorten or Stupa was built in order to protect the Kingdom of Sikkim from the invasion of neighbouring countries.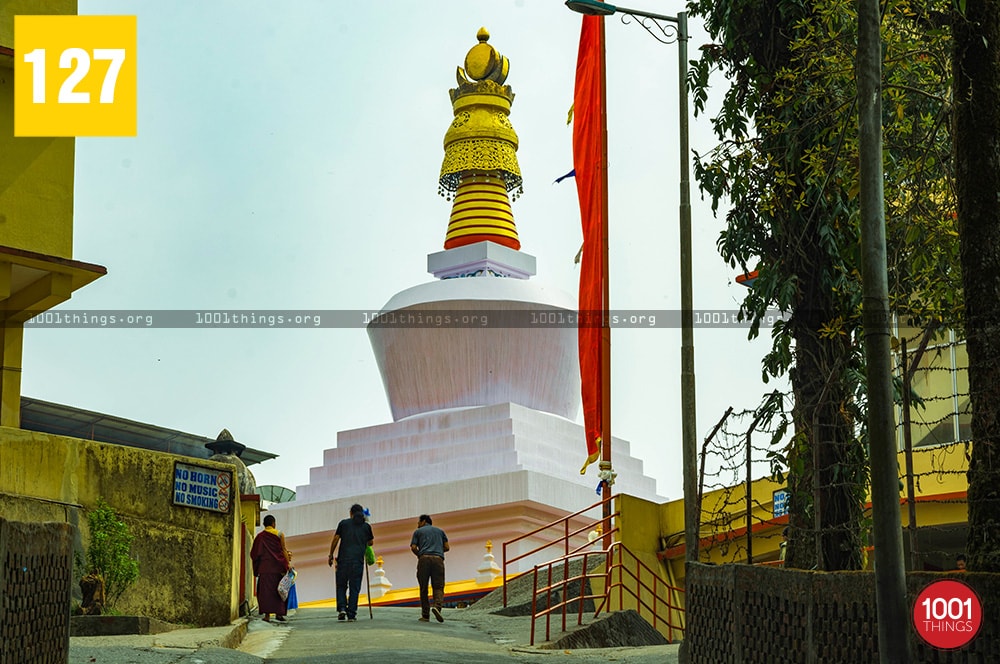 What actually is a Chorten or Stupa anyway?
A Chorten or Stupa is a Buddhist monument usually housing sacred relics associated with the Buddha. The basic structure of a Chorten consists of a square foundation symbolising the earth, a dome symbolising water, and thirteen tapering steps of enlightenment symbolising the element of fire. These steps lead to a stylised parasol, the symbol of the wind, which is topped in the ethereal sphere by the well-known 'twin-symbol' uniting sun and moon, which is the shimmering crown of the Chorten.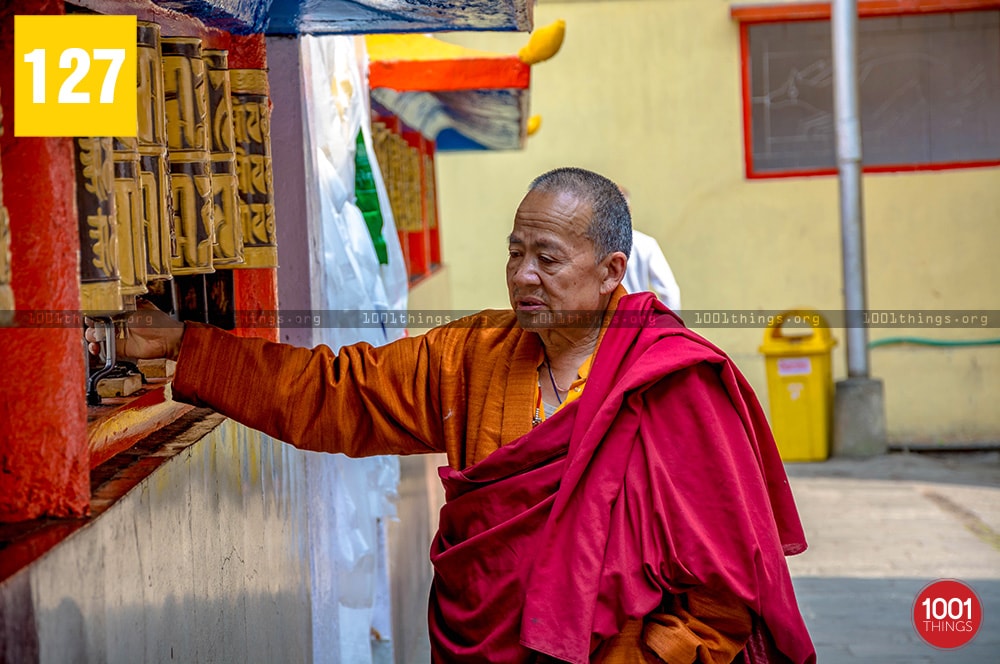 Dro-Drul Chorten is located near the capital, Gangtok and at a walking distance from Namgyal institute of Tibetology. It is one of the most popular tourist spots in Sikkim. From the parking lot, it is a very steep uphill road leading to the Chorten. The largest Chorten is in the middle of the spot is surrounded by 108 Mani Lhakar or the prayer wheels with Buddhist mantra inscribed on them, which reads 'OM MANI PEDME HUNG' or hail the jewel in the lotus, which envokes the Bodhisattva.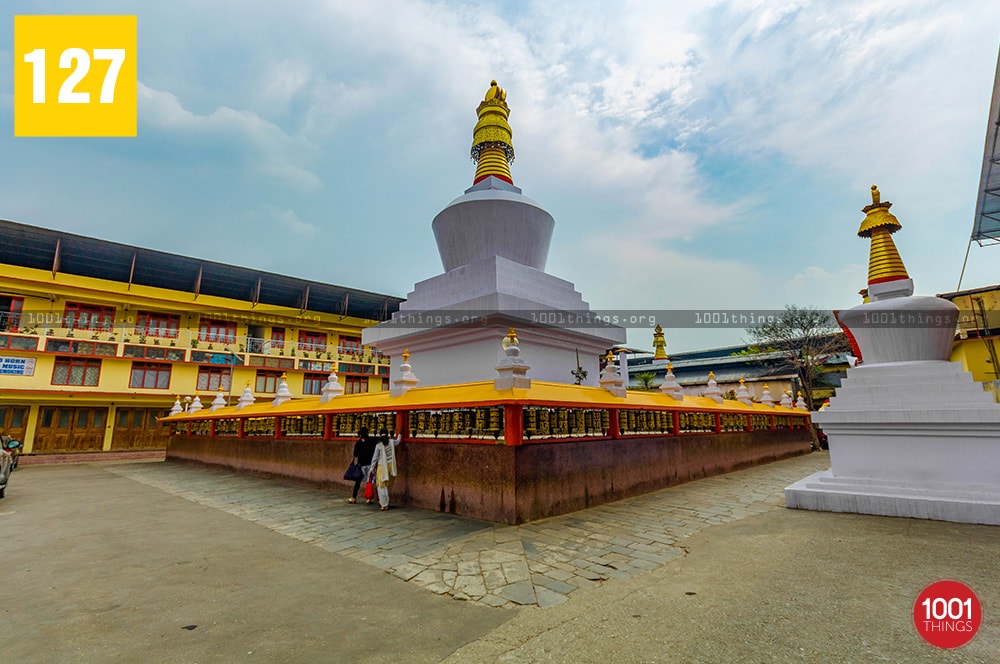 Spinning those prayer wheels in a clockwise direction is believed to be very auspicious, people are seen whirling those wheels chanting the holy mantra. Inside the Chorten, there is a complete Mandala set of Dorjee Phurba or Vajra Kilaya, a set of Kang Gyur relic, complete Zung or Mantras along with other holy objects and some Idols of Buddhist Deities. It is surrounded by Chorten Lakhang and Guru Lakhang, where there are two huge statues of Guru Padmasambhava. This is the seat of Kyabje Dodrupchen rinpoche, the most accomplished Nyingmapa Lamas of the world.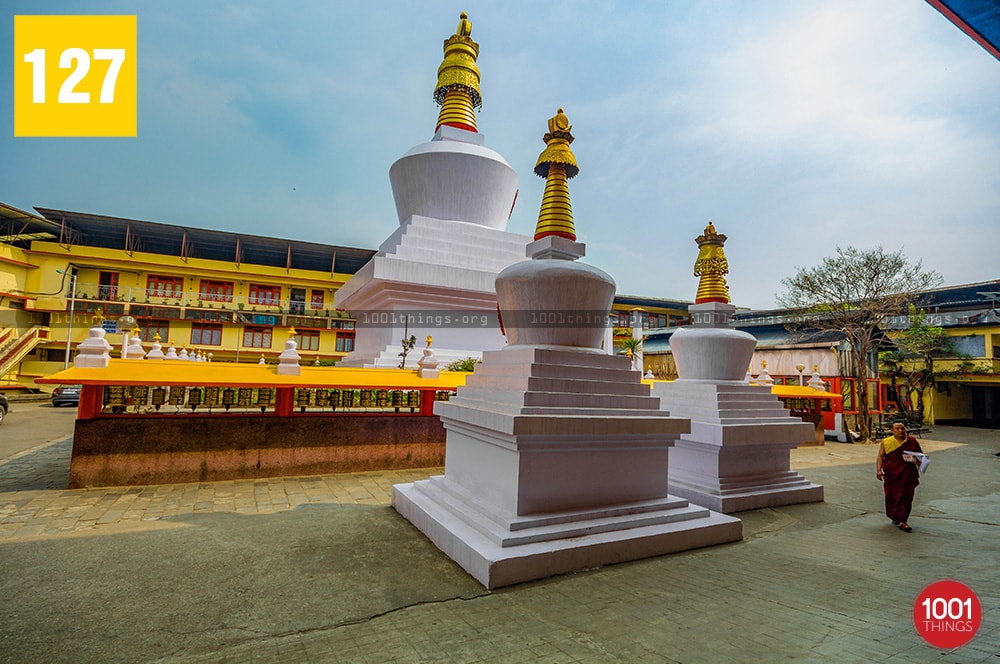 There are several other smaller Chortens around the main Stupa, one of them is Jhang Chup Chorten, built in the memory of Trulshig Rinpoche after his death. Another great Lama, Dodhrubchen Rinpoche took over the place of Trulshig Rinpoche, he established Dharma preaching centre here. This new building is capable of accommodating more than 700 monks.